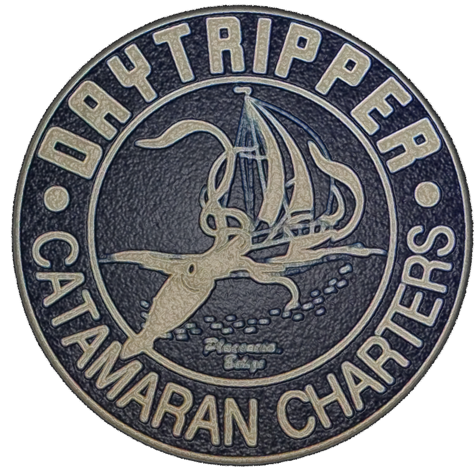 Frequently Asked Questions
Where does the boat leave from?
The boat leaves from Daytripper Catamaran Tours.  CLICK HERE FOR A MAP!
What time does the boat leave?
Day Sail & Snorkel departs at 9:30. Sunset Sip & Sail departs at either 4PM or 4:30PM depending on the time of year. 
Which locations will we be snorkeling at?
That's a tough question. We typically sail out to the Lark Caye Range, Bugle Cayes, Scipio, Colson, Logger Head or Saddle Caye. In the end it depends on the weather, the wind, recent conditions, etc. We want to make sure you have a great time so we go to sites that are calm with reef life and fish. All of them are within the barrier reef and within an hour or so. We do not go to Silk Cayes.
When does the boat come back in?
Day Sail & Snorkel returns around 3PM. Sunset Sip & Sail returns after sunset. We would not recommend booking another activity too close to either time. Relax and enjoy your time!
What should we bring?
We supply reef-safe sunscreen that works great. If you prefer to bring our own, please be sure it is reef-safe. We also frown upon the sunscreen spray, as it makes the boat very slippery. You may also want to consider the following: hat, sunglasses, your camera, towel, book, insulated travel mug or reusable water bottle, a good attitude.
What is provided?
Day Sail & Snorkel includes sailing, guided snorkeling using our quality snorkeling gear, tasty lunch, rum & vodka drinks including famous rum punch, juices, some sodas, drinking water, all taxes and fees.
Sunset Sip & Sail includes sailing, appetizers, wine, beer, famous rum punch, all taxes and fees. 
We also strive to provide good music and great company on every trip.
What is beyond yours and our control?
The breeze, weather, sunshine, manatee sightings, double rainbows, solar eclipses and Kraken are all beyond our control.
Do you like living in Belize?
Yes! We have been living here for about 15 years. The people are fantastic and the weather is great this time of year.