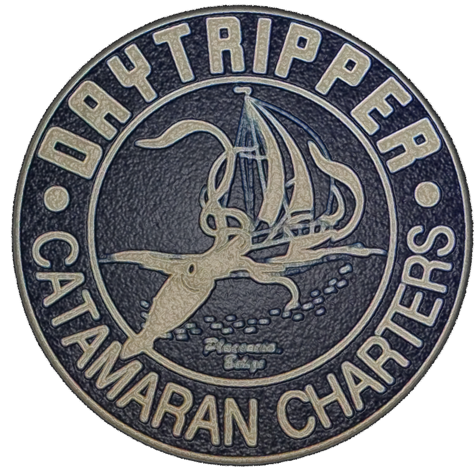 Our Suggestions, Advice, Requests
  - If you've never snorkeled before, we strongly recommend trying it out in a pool or at the beach (somewhere you can touch) before going out on our boat, where we will be snorkeling in deeper water. 
  - Please do not use spray-on sun screen on the boat.  It makes the decks dangerously slippery and eats into plastics and paint - including my Maui Jim polycarbonate sunglass lenses, and our Tritan plastic rocks glasses.  
  - UV sun protection shirts (rash guards) are highly recommended, not only for protection from sunburn, but also from accidental scrapes or stings with sea life or the bottom.  And, everybody looks cool in lycra spandex!
  - If you have bad eyesight, prescription masks are totally worth the cost - even if you only snorkel once - especially if you only snorkel once.  
  - Boarding our boats from the water is done via swim ladder on the stern of the boat.  The level of physicality necessary to use our ladder would be comparable with a swimming pool ladder, or the equivalent of climbing a step ladder without using the first rung.  We've only had one guest who got into the water and couldn't climb the ladder back out.  We had to tow them back to shore, which was a little embarrassing and somewhat of a shark-attack risk.  I'm joking!  That never happened.
  - Please bring cash (U.S. or Belize) the day of the trip, or PayPal us prior to the day of the trip.  We do not accept credit cards or checks.
  - You're welcome to bring beer, and we'll provide a cooler and ice!
  - Think of our day trips as being a day out on your friends boat, and less of being a tour.  We don't go to the Silk Cayes to snorkel with "The Turtles" (and a hundred other snorkelers).